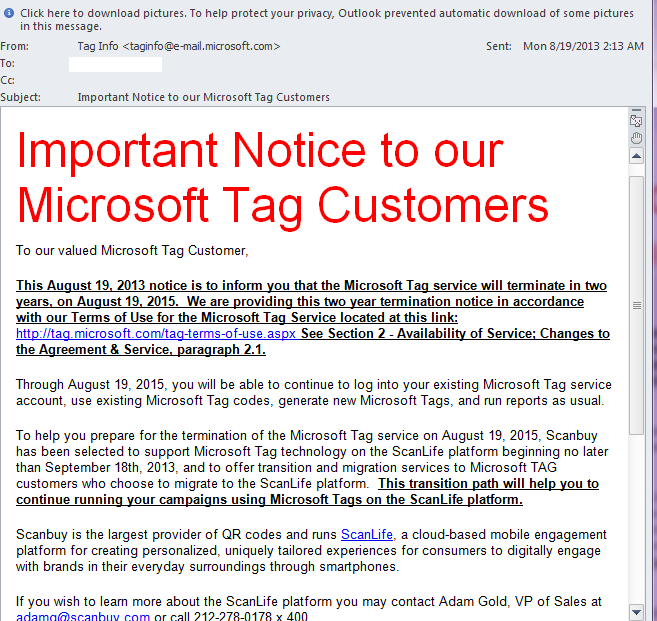 An email coming from "Tag Info" may have hit your inbox entitled "Important Notice to our Microsoft Tag Customers."  Yes – Microsoft Tags are being Discontinued!
Lakewood Ranch marketing efforts were ignited as the community of Lakewood Ranch and other cities around the us were chosen as a hotbed to deploy the little yellow, blue and magenta colored qr like wonders.
The email reads as if prepared to avoid any lawsuits…
Important Notice to our Microsoft Tag Customers

To our valued Microsoft Tag Customer,This August 19, 2013 notice is to inform you that the Microsoft Tag service will terminate in two years, on August 19, 2015.  We are providing this two year termination notice in accordance with our Terms of Use for the Microsoft Tag Service located at this link: http://tag.microsoft.com/tag-terms-of-use.aspx See Section 2 – Availability of Service; Changes to the Agreement & Service, paragraph 2.1.

Through August 19, 2015, you will be able to continue to log into your existing Microsoft Tag service account, use existing Microsoft Tag codes, generate new Microsoft Tags, and run reports as usual.

To help you prepare for the termination of the Microsoft Tag service on August 19, 2015, Scanbuy has been selected to support Microsoft Tag technology on the ScanLife platform beginning no later than September 18th, 2013, and to offer transition and migration services to Microsoft TAG customers who choose to migrate to the ScanLife platform.  This transition path will help you to continue running your campaigns using Microsoft Tags on the ScanLife platform.

Scanbuy is the largest provider of QR codes and runs ScanLife, a cloud-based mobile engagement platform for creating personalized, uniquely tailored experiences for consumers to digitally engage with brands in their everyday surroundings through smartphones.

If you wish to learn more about the ScanLife platform you may contact Adam Gold, VP of Sales at adamg@scanbuy.com or call 212-278-0178 x 400.

We thank you for allowing us to serve you as our Microsoft Tag customer. If you have questions that Microsoft can assist you with please contact taginfo@microsoft.com.

Respectfully,
Microsoft
Eric Engstrom,
General Manager, Microsoft
The email includes a link to ScanLife, http://www.scanlife.com, where you can transition your Microsoft Tag.
My thought is this, and this can be confirmed off your Microsoft Tag analytics, it's kind of like plugging the holes in a ship with chewing gum, at some point the boat is going to sink.
If you have been using Microsoft Tags and mobile tags are an important driver to your business –  hit the reset button now.
A great qr tag generator website that is highly customizable is QRStuff.com which can be found at http://www.qrstuff.com.  I have used it many times and it works simply and easily.  QR tags can be generated on the fly for the following: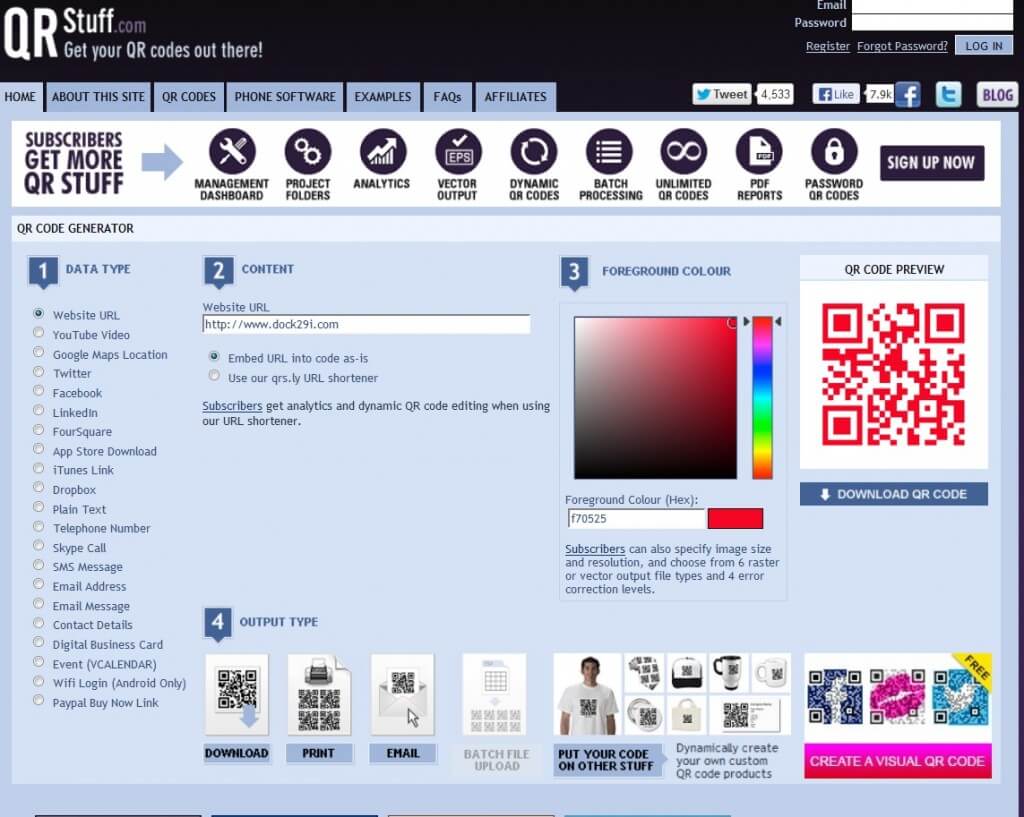 Website URL
YouTube Video
Google Maps Location
Twitter
Facebook
LinkedIn
FourSquare
App Store Download
iTunes Link
Dropbox
Plain Text
Telephone Number
Skype Call
SMS Message
Email Address
Email Message
Contact Details
Digital Business Card
Event (VCALENDAR)
Wifi Login (Android Only)
Paypal Buy Now Link
…and because QR tags have a big adoption rate and are open source, you're much more likely to have this technology stay around.
Please share this news on "Important Notice to our Microsoft Tag Customers  – Microsoft Tags Discontinued" with your business friends now using the social tabs on our website at https://dock29.com/important-notice-to-our-microsoft-tag-customers-microsoft-tags-discontinued/.