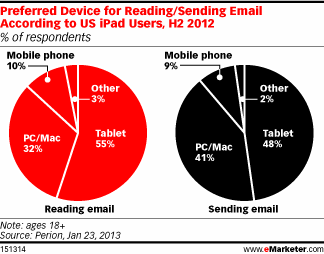 An ipad email usage study done by Perion, on 4,400 ipad users, revealed that the ipad is the preferred place to read AND send emails!
In fact, more than 55% of those surveyed chose the tablet as their preferred email usage device for reading by a full 20% compared to PCs and Macs.
Now sending emails brought the percentages back more in line, but tablets STILL ranked higher than PC/Macs by a full 6%.
Yet another reason I need to get an ipad.
Please free to donate to the "Chris needs an ipad fund" by clicking the donate button (no kidding – you really can).
To read the full article as it was released on emarketer.com click here.